Sun-City exhibition opening by Attila KONDOR in Resident Art Budapest Gallery
Tuesday May 9th, 2017

On 18 May starts the exhibition Sun-City by artist Attila KONDOR in Resident Art Budapest Gallery.

Sun-city an exhibition by Attila Kondor – painting-installation and painting-animation

The works of art of the exhibition 'Sun-city' are constatly pushing the envelope of the medium of painting. The artist dosen't only surprise us by the fact that he cuts the canvas or wooden board by the edge of the contours of the depicted view and interprets them as spacious forms but by combining two different images into one composition he creates a new one. Late antiquity, renaissance architecture and horticulture types have been playing an important role in Kondors' painting since the beginning of his carreer as an artist. One of his main approaches is to addopt and reinterpret these

Attila Kondor started the painting-animation project in 2014 in which he ellaborates the ways of perception, reception and cognition.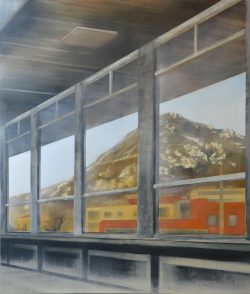 After the A38 Ship Gallery, the Kiscelli Museum Space and the B32 Gallery the next exhibition of "The Ways of Attention" project is the "Sun-city" which is going to be on show in Resident Art Budapest Gallery until the middle of June. The paintings, graphics and animations complement each other and lead the viewer to a contemplative observation. The moving and standing images effect the senses and propose questions at the same time which through the perception of art opens the way for self-reflection and our ultimate questions.
•
opening speech: Szegedy-Maszák Zsuzsanna art historian
curator: Schneller János art historian
date: 18 May 2017 Thursday 19:00

venue: Resident Art Budapest – Tours & Showroom
1061 Budapest, Andrássy út 33. II./1., bell No 29
opening hours: Thursday-Friday 13.00-18.00
on show until 16. June 2017